BECOME SPONSOR OF EMMANUELE MACALUSO / EM314

You can become sponsor, technical partner or supplier of the EM314 project. You will give your product to be tested, Emmanuele will fill in any usage reports and share the images on social media, highlighting the collaboration through all the official channels (on and off line) and the press office.

For more information on spnsorship, partnerships and related image returns that we reserve for our partners, do not hesitate to contact our management.
WHY TO BECOME A PARTNER / SPONSOR
ROI (Return Of Investment) AND BENEFIT

- POSITIVE IMAGE: You can connect your brand and your product to the whole positive image of Emmanuele Macaluso, who supports all the sporting activity of the scientific popularizer and testimonial/ambassador for social and awareness campaigns.
- HIGH VISIBILITY: Emmanuele is a public figure with an excellent rate of attention on social media and press, with a consolidated audience of thousands of followers, fans, readers and newsletter subscribers.

- CREDIBILITY: Emmanuele's credibility in his professional professional field, in public relations and sporting activity leads Emmanuele to bring visibility for his partners even during live events.

- PRESS AND PUBLIC RELATIONS: Emmanuele provides his press office available for the launch of a press release for the formalization of the partnership / sponsorship. Within 72 hours, the press office sends a report containing the press review.
Emmanuele immediately declares himself available, by agreement and inclusion in the agenda, to Public Relations activities during events and activities with the media organized by the partners.
EMMANUELE MACALUSO / EM314 EDITORIAL LINE

EM314 shares his experiences through social media, his blog, the newsletter and the press.
Its personal and professional channels have more than 20,000 direct contacts, to which must be added those of the partners.
Below is a diagram of Emmanuele's official communication channels.
THE EM314 COMMUNICATION NETWORK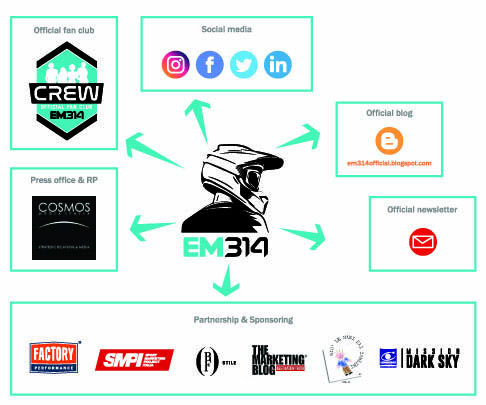 FOR BUSINESS PURPOSES ONLY
(The 1909 Ltd - London, UK)
Manager; Silvia Cauzzi
I WORK WITH BRANDS I BELIEVE IN