EMMANUELE MACALUSO / EM314 – OFFICIAL ATHLETE'S BIO
Emmanuele Macaluso is an athlete currently engaged in the MTB - Cross Country specialty.
Sport is in his DNA. Between the second half of the 90s and early 2000s he was a professional athlete who won several titles and meetings in the throwing of the javelin with the Sisport Fiat Team, trained by the record holder and world champion of the specialty Carlo Lievore.
During his career as an athlete he has been a testimonial and tester for sportswear companies.
Always passionate about cycling, he decided to return to competitive activity in the world of mountain bike (MTB) in Cross Country specialty.
Emmanuele is brought back to the competition fields with the desire to make his popularity, achieved as a scientific communicator, available to two beneficial causes: the Global Awareness Campaign about Light Pollution "Mission Dark Sky" and the Campaign "Giù le Mani dai Bambini ONLUS" as ambassador.
For his return in sport, Emmanuele founded a marketing and communication project called "EM314" (his initials + his historic race number).
The project is developed on a blog, social media, press and an official fan club: The "CREW".

Awards
> 2007 - Athlete awarded by the 9th District of the City of Turin
TECHNICAL DATA

Name: Emmanuele Macaluso
Project name: EM314
Nationality: Italian
Residence: Turin (Italy)
Specialty: MTB Cross Country (XC)
MTB debut: 2021


Management:
> 3 A Sports Management
Powered by:
> Factory Performance Associazione
(factoryperformance@gmail.com)
Press Office:
> Cosmos Media Italia

Technical Partner:
> BFO Style
> Roby Daniele Sais

Media Partner:
> The Marketing Blog Italia
> SMPI Sport Marketing Project Italia
CURIOSITIES

CURIOSITY # 1: From science communication to sport
Emmanuele Macaluso is one of the most influential science popularizer and communication experts in Italy. Founder of the dissemination website COSMOBSERVER (www.cosmobserver.com) and author of The Manifesto for Ethical Marketing, he works daily with astronauts and researchers.
In 2008 he was awarded with the "Silver Plate of the Italian Republic" by the President of the Italian Republic Giorgio Napolitano and in 2019 he won the "Interstellars International Award".
CURIOSITY # 2: "Ipazia"
Emmanuele, like many other athletes, has given a name to his bike. The name chosen is "Ipazia", in homage to the philosopher, mathematician and astronomer who lived in Alexandria (Egypt) between the 4th and 5th centuries. A brave woman killed in martyrdom for not denying her ideas.
A piece of science that Emmanuele brings to the race.
EMMANUELE MACALUSO / EM314 PROJECT COMMUNICATION

EM314 shares his experiences through social media, his blog, the newsletter and the press.
Its personal and professional channels have more than 20,000 direct contacts, to which must be added those of the partners.
Below is a diagram of Emmanuele's official communication channels.
The Emmanuele / EM314 media network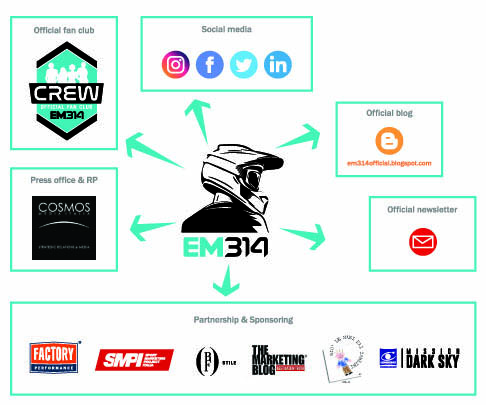 Numbers and statistics
> Over 20,000 direct contacts on social media networks
> Over 10,000 addresses on the official newsletter mailing list
> Hundreds of articles dedicated to Emmanuele / EM314 *
> Over 100 members of the "CREW", the official Fan Club (constantly growing)

Newspapers that spoke about Emmanuele / EM314:
La Gazzetta dello Sport, Corriere dello Sport, Tuttosport, Yahoo Sport, La Stampa, Sport Fair, TorinoSette, Torino Oggi, MTB-Vco, Io Bike, Italciclismo, Torino Sportiva, Sport Notizie, Ciclo News, Sport Over, Ruote Amatoriali, SMPI Sport Marketing Project Italia, Sport Magazine, A Tutto Sport, Piemonte Press, La Notizia, Informazione.it, Comunicativamente, Nella Notizia, Joy Free Press, Factory Performance Official Blog, PRMedia Italia, InTopic, Fai Informazione, The Marketing blog Italia, Comunicati.net, Comunicati No Cost, Zazoom, Comunicati-Stampa.net, Libero, Però Torino, Giù le Mani dai Bambini Official Newsletter, Il Mosaiko Kids, Il mio quartiere, Cosmos Media Italia, Comunicato.eu, Udite Udite, Crew Review, Crisalide Press, The World News, Mondo Notizie, Good Morning News, Italia News 24, Bing News, Link Build Parma, Campioni.cn, Freeonline, Geo News, Yahoo Notizie, News ABC, AgoraVox, Academia.
* Data available in the "press review" section of the blog http://em314official.blogspot.com
BECOME A PARTNER OF EMMANUELE MACALUSO / EM314

You can become sponsor, technical partner or supplier of the EM314 project.
You will give your product to be tested, Emmanuele will fill in any usage reports and share the images on social media, highlighting the collaboration through all the official channels (on and off line) and its press office.

For more information on partnerships and related image returns that we reserve for our partners, do not hesitate to contact us.
WHY BECOME A PARTNER / SPONSOR
ROI (Return Of Investment) AND BENEFIT

> POSITIVE IMAGE: You can connect your brand and your product to the whole positive image of Emmanuele Macaluso, who supports all the sporting activity of the scientific popularizer and testimonial/ambassador for social and awareness campaigns.
> HIGH VISIBILITY: Emmanuele is a public figure with an excellent rate of attention on social media and press, with a consolidated audience of thousands of followers, fans, readers and newsletter subscribers.

> CREDIBILITY: Emmanuele's credibility in his professional professional field, in public relations and sporting activity leads Emmanuele to bring visibility for his partners even during live events.

> PRESS AND PUBLIC RELATIONS: Emmanuele provides his press office available for the launch of a press release for the formalization of the partnership / sponsorship. Within 72 hours, the press office sends a report containing the press review.
Emmanuele immediately declares himself available, by agreement and inclusion in the agenda, to Public Relations activities during events and activities with the media organized by the partners.
EMMANUELE MACALUSO / EM314 CONTACTS